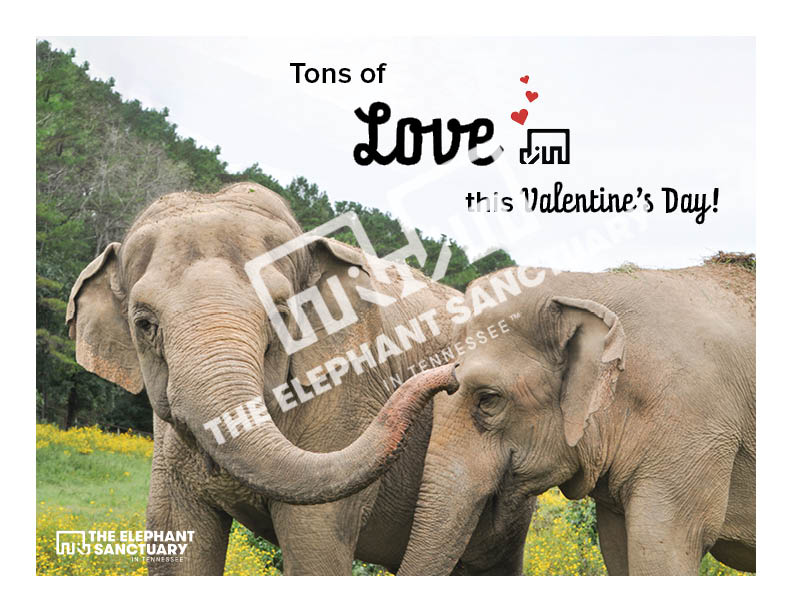 Valentine's Day Special Instructions:
To send an electronic Valentine to your sweetheart,
select 'Yes' you want to dedicate this donation
fill out the honoree's information,
and select 'Send an Email' for immediate delivery.
Your Valentine will receive a non-watermarked version of the design above.
Please Note: Adoption certificates for donations at the $50 level are sent separately and Valentines sent as a letter are NOT guaranteed to be delivered by February 14.
By adopting one or more elephants you become a partner in The Elephant Sanctuary in Tennessee's efforts to provide the gift of herd, home, rest, refuge, and individualized care for life.
Donations at the $50+ level receive
a Certificate of Adoption, including a photo and bio detailing the amazing story of your "adoptee"
monthly EleNews email updates, including invitations to special events
a one-year subscription to The Elephant Sanctuary's triannual newsletter, Trunklines
eligibilty to apply for a Volunteer Day at The Elephant Sanctuary (read more here)
Donations of any amount are greatly appreciated, and will receive an acknowledgement by email. Your donation will also automatically enroll you in monthly electronic EleNews updates from The Sanctuary.
"In Honor" and "In Memory" gifts are a great way to recognize a special friend or family member. If you choose to make a gift "In Memory" or "In Honor," the individual or family you designate will receive a certificate informing them a gift has been made in the designee's name. If the recipient is new to The Elephant Sanctuary, they will also receive the latest copy of Trunklines.