---

Because you responded so generously to our 2015 Year End Appeal and CrowdRise Holiday Challenge,
Tange, Flora, Hadari, Rosie and Sukari will have twice as much room to roam this summer, in an expanded Africa Habitat enclosed with heavy duty steel ele-fencing
Tarra, Shirley and other Asian elephants will enjoy swimming in Highland Lake for years to come, thanks to essential repairs slated for the dam that protects their beautiful ecosystem
The Elephant Sanctuary is advancing models for 'whole elephant' care, sharing best practices with the global elephant community, and increasing public understanding of the complex needs of elephants.
HAVE YOU EVER WONDERED WHAT IT TAKES TO CARE FOR AN ELEPHANT?
Each and every day, Sissy, Winkie, Debbie, Ronnie, Minnie, Billie and all the other elephants at The Sanctuary engage in daily activities that are an essential part of their ongoing care. The 2016 Summer Appeal will have an immediate impact on their lives by providing resources to meet essential mission-critical needs, such as . . .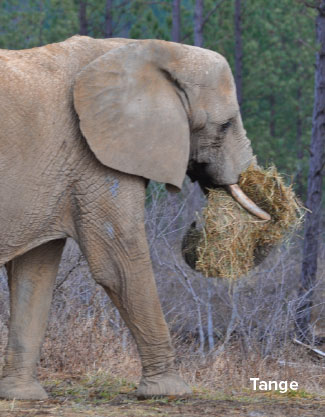 A WHOLE LOTTA HAY!
Like all of The Sanctuary's elephants, Tange has access to acres and acres of fresh browse in her habitat, but still needs nutrient-dense Timothy hay every single day as a dietary supplement. The cost of providing hay for all thirteen elephants each day of the year – including transportation – is high.
A gift of $20 = 2 bales of hay for one elephant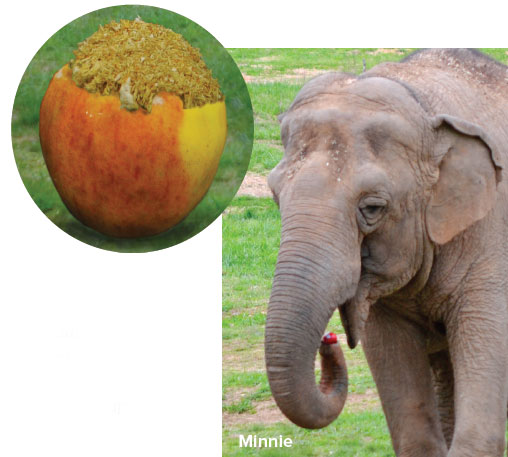 AN APPLE A DAY! After years of traveling in the circus, Minnie struggles with painful arthritis. For comfort and relief, our team of veterinarians and caregivers provides Minnie – and every elephant at The Sanctuary – with supplements and vitamins to alleviate pain. Elephants get a daily apple (sometimes two!) which is cored, filled with supplements and vitamins, packed with peanut butter, covered with molasses and rolled in oats for an irresistible treat that supports optimal health and pain management.
A gift of $45 = one supplement-enriched apple for one elephant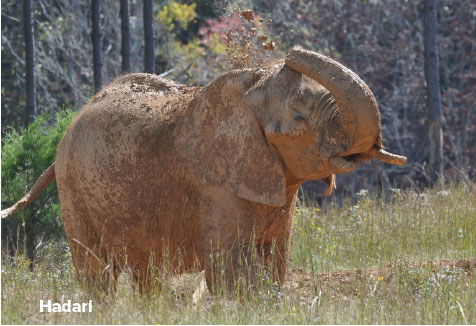 PLACES TO PLAY! Like many elephants taken from the wild as calves for a life in the public eye, Hadari had no experience with freedom-of-choice or large tracts of land. After arriving at The Sanctuary in 2015, Hadari soon discovered the joy of hills and valleys, trees and mud. Whether it's taking a mud bath to cool down and protect her skin from pests and the sun's rays, or swimming in ponds for recreation and rehabilitation, every elephant needs a safe and secure natural habitat.
A gift of $316 = daily cost of facilities for one elephant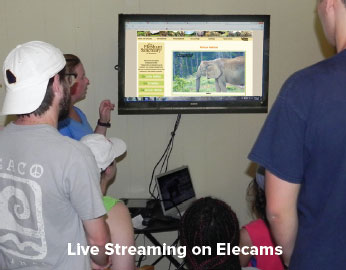 DIGITAL DISPLAY! Live-streaming images are essential to The Sanctuary's mission of educating the public. Nearly 3 million viewers per year watch the elephants' daily activities on our website absolutely free! The Sanctuary hosted Distance Learning programs for 2,133 students in 17 states and 3 countries last year; teachers describe it as "Awesome! …the best Distance Learning our students have experienced!"
A gift of $1,906 = one week of streaming Elecams
NOW YOUR GIFT CAN GO TWICE AS FAR! Please help The Elephant Sanctuary continue to serve as a forever, natural-habitat home for retired captive elephants in North America by making a gift to the 2016 Summer Appeal. Your support will ensure best care of the elephants already in Sanctuary, and help us educate the public about the complex needs of elephants everywhere. Thank you for joining with us in this important work.
Sincerely,

Janice Zeitlin, CEO
PS: A total of $50,000 in gifts will be matched, dollar-for-dollar. Double your impact! Sanctuary Much!
The Elephant Sanctuary has set aside unrestricted financial operational reserves of five times its budgeted expenses to ensure the lifetime care and safe haven for an undetermined number of elephants. Elephants have an expected life span of 50 – 70 years and The Sanctuary is committed to providing food, shelter, veterinary care, medicine, caregivers, property maintenance and security. Along with the public's continuing support, these funds are needed to provide for the elephants currently in our care and for those that will come to Sanctuary.